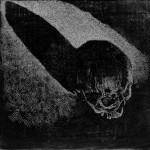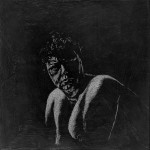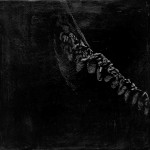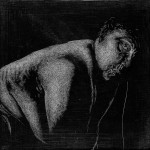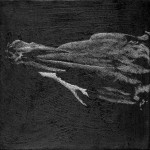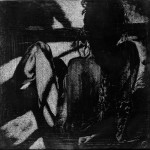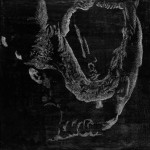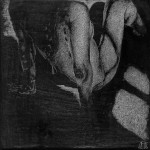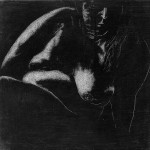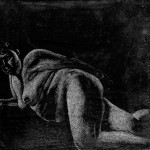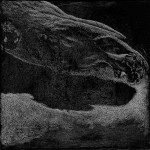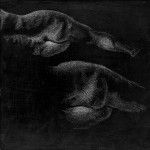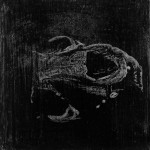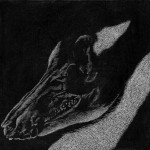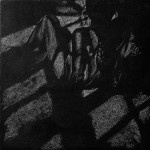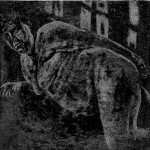 Weltcronic
English
Weltcronic is a series of skulls. On this page I mix it with studies of a model from the Mette-suite. I use a special sgraffito technique that I have developed and refined over many years. It´s a kind of inverted drawing in negative and the technique itself draws threads far back to antiquity etc.
Most often I use mdf boards as it´s a stable surface to work on. Then I add chalk in pastose layers and then I draw with my elegant diamond needle and leaves many traces that slowly form graphic shapes as an inverted way of drawing. Very slowly I scratch my way through the darkness – into the light. The tonal registers between light and darkness are experienced in the density of the line, where the object is isolated and leaves simple formations in graphite. I use a mdf board as a surface as it is such a stable surface to work on. Then I add chalk in pastose layers. I´m very thrilled and fascinated by the very physical process where I am involved in all stages of the tactile experience. 
For a number of years I have been experimenting with different types of chalk and plaster, but I always go back to this special chalk from champagne that suits my refined expression.
Dansk
Weltcronic er en serie med kranier. Jeg anvender mig af en særlig teknik, som jeg har udviklet og forfinet gennem mange år. Det er en slags omvendte tegninger i negativ og selve sgraffito teknikken trækker tråde langt tilbage til antikken etc. Jeg ridser mig langsomt vej gennem mørket og  frem i lyset. Min diamantnål efterlader mange spor, der langsomt danner grafiske former. Det er en omvendt måde at tegne på. De tonale registre mellem lys og mørke opleves i stregens tæthed, hvor objektet isoleres og efterlader enkle formationer i grafit. er det mdf plader som jeg anvender, da de giver et stabilt underlag at arbejde på. Herefter påfører jeg kridt i pastose lag og forsøger at fange et glimt at selve blødheden, bevægelsen gennem arbejdet med den cremede konsistens. Det er en langsommelig og meget fysisk proces, hvor jeg er med i alle led af den taktile oplevelse af materialet.
I en årrække har jeg eksperimenteret med forskellige former for kridt og gips, men vælger altid tilbage til champagnen, som passer til mit forfinede udtryk.